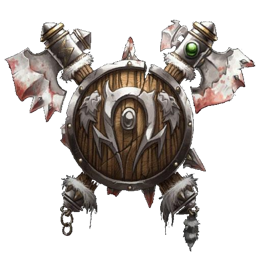 لا توجد دقة أعلى متوفرة.
لا يوجد وصف حتى الآن. أضف وصفا.
يظهر في هذه الصفحات

على
شعب الأورك من أورغريمار هم طائفة داخل الهورد، يعيشون في أرض ديروتار في قارة كاليمدور. منذ زمن...

شعار المعركة هو الشعار العرقي للأورك، و يرمز لطبيعتهم الحربية و قوتهم القتالية. يحتوي الشعار على...
يظهر في هذه الويكيات

على
I Love Writing Wiki

I think these pics are cool!! :D File:Horde Crest.pngWoW Horde CrestFile:OrcCrest.pngWoW Orc Crest
تاريخ الملف
اضغط على وقت/زمن لرؤية الملف كما بدا في هذا الزمن.
Ad blocker interference detected!
Wikia is a free-to-use site that makes money from advertising. We have a modified experience for viewers using ad blockers

Wikia is not accessible if you've made further modifications. Remove the custom ad blocker rule(s) and the page will load as expected.